Hi Everybody!
The wait is over. Yup that's right. Viki Lyn has entered the building. She let me question her unmercifully and then she gave us some tidbits from her yummy stories.
Hello Viki. Thank you so much for letting me grill you. Let me say: these are some steamy sounding(and looking) books. Now for the fun!
1. Where did you get the idea for the Angel/protector series?
I've always been fascinated by angels. Maybe it's because I was raised Catholic and they were a part of my religious upbringing. When I was asked to write a story for Ellora's Cave, I knew that I wanted to write a paranormal romance. I've written about vampires and shape shifters and wanted something new to research and explore. So I chose angels and like with everything I do, I created a twist to the myths. I created a race of Protectors-warriors that kill for angels. They are fallen angels that have broken God's commandments.
2.

Tell us a little about how your Novella Perceived Love was born?
I was asked by Musa to write a novella for their Finally Ever After series. I knew it had to be ex-lovers reunite but everything else was up for grabs! I had completed Tarot classes and wanted to incorporate the cards into my storyline. My main character is a psychic that has a good friend who reads the tarot. I have two readings in the book. I threw the cards myself and used the spreads and my interpretations. It was really fun and I'd love to do it again!
3.

Do you have a favorite character from any of your books?
Honestly, I love them all for different reasons. I think every character has a bit of my personality in them, even though I write m/m romance! I love Uri-el from Sins of Lust because he questions everything despite being a powerful archangel in the Hierarchia. Many of my characters have artistic professions because of my own artistic bent. Titan from Out of Bounds is another character I adore, although he doesn't get much press. He's an ex-NFL star who goes through major change when he meets the man he can't live without.
4.

Let's give back some love. Tell me who are some of your favorite authors?
You know, I don't have a favorite author. Not really. I enjoy so genres that I never focus on one author or one genre. I guess I'd say murder mysteries are close to my favorites. I've read hundreds, including all of Agatha Christies' books (over 80+). I read a lot of m/m romance for my own enjoyment as well, and especially love m/m mysteries. Josh Lanyon's Adrien English mystery series was great and Victor Banis has a wonderful series. Recently over the holiday I caught up on some reading and loved Simple Gifts by L.B. Gregg.
5.

Can we expect sequels to your series and/or Novella?
I'm not sure. I would love to do a sequel to Sins of Lust but I'll have to see how well it sells. If my readers aren't buying it, then there's no point to writing another book-although I'd love to tell Micha-el and Lucifer's story and set it in hell. I am writing book 3 of my Chances vampire series I have out with Loose ID. It's a long time coming because I only publish three to four books a year.
6.

These came out during the Holidays—tell me are you a Who or a Grinch? ;)
Oh most definitely a Grinch! I've gone from a Who to a Grinch as the years roll by!
7.

Happy New Year! Do you have any fun resolutions this year?
This year I did something different. I didn't make any specific writing goals. I just have one—to bring joy back into my writing. That's it. I'm going to let my writing path unfold with no expectations or must-dos.
8.

We all love some Man-Candy. Do you have a specific 'man-candy' that you adore seeing?
I've just noticed two things about my Man Candy. First, I like the over 40 crowd and second, they are all British. LOL Colin Firth, Richard Armitage, Clive Owens. A man who has experience and a sharp brain is a turn-on for me.
9.

February is coming and that means Valentine's Day. If I want some company via books, would one of your characters make a good cupid?
I'd cuddle with Skye from Blue Skye. He is a romantic artist and would do anything to please me. Or, maybe with Ryan from Ryan's Harbor. He'd be a kick to go out with. He likes to party but doesn't drink that much so he's never 'slobbery or sloppy'! And he creates bad-ass computer games. I'd love to go to one of his LAN parties at his company and spend the night trolling for monsters with him. Then there's Uri-el who could fly me, literally, to the moon for an evening out.Oh-Yum! Can I have them all?(HG)
10.

I'm a coffee addict. What's your drink of choice to keep you motivated? With or without chocolate?
Oh, man, so am I! I have two coffee machines – Nespresso for when I need that strong one-shot adrenalin rush and my Cusinart which takes K-cups. I buy the bold variety – REV, Italian Roast, Dark Magic. :) When I go out for coffee, it's usually a double shot latte or a cappuccino. Last time I traveled overseas, I took a picture of every cappuccino I ordered and then I rated them! I don't like sweet coffee drinks.
So. Can you Tell us a little bit about your books? How about "Sins of Lust" (
The Pic is above but I'll put it here again because--*fans self* it is Hawt!)
Blurb:
Thou shall not kill.
For archangel Razi-el, he had no choice. He would break God's commandment again if it were to save Uri-el from a demon's talons. Yet even God's most trusted archangel cannot avoid punishment. No longer Razi-el, he is now Izar, a Protector sworn to kill for the angels.
When a Protector kills an angel, Izar is summoned to work alongside Uri-el to capture the killer. Izar is shocked when his bloodlust spikes hot for the archangel. He knows better than to go after forbidden fruit. Refusing to give in to temptation, he ignores his body's tempestuous arousal for Uri-el until a heated argument turns his blood into molten lust.
As they rush to find the killer, their passion plays into the demon's plan. Izar will have to make a choice between life and death if he is to save Uri-el again.
http://www.ellorascave.com/sins-of-lust.html
Ohhhh Yay! She's also giving us an excerpt. *Grins*
Excerpt:
Sins of Lust Copyright © 2012 Viki Lyn
Through the open archway, he caught a glimpse of the Vox Dei talking with another archangel, his back to Izar. They were backlit in a violet glow from the oracle stone. The crystal's sheer size and faceted beauty had left him speechless the first time he'd seen it.
Izar tugged on the hem of his jacket. Before entering the cella, he took out a handkerchief and wiped his face. After folding the cloth into a small square, he slipped it back into his pocket. After one last tug on his jacket, he strode in and then abruptly stopped.
His eyes widened and he stepped back as the blond angel turned to him. Oh God almighty…his cock leaped, setting off a shockwave spreading throughout his lower half.
Golden waves of hair and milky skin, a white robe draped seductively around a tall, slender body, eyes bluer than any sky Izar had ever witnessed. The sight of the archangel caused a loss of equilibrium.
The archangel's brows lifted slightly at Izar's feeble attempt of appearing in control. Oddly, the angel seemed familiar, but they had never spoken or been in the same room together. Izar would have remembered that face. He'd seen the prince of the Cherubim from a distance, but never this close, this personal, this…distracting.
The quicksilver lust on seeing this vision shocked him. He wasn't attracted to forbidden fruit. He didn't need the trouble. He was a practical man, especially when it came to where he put his dick. Protectors were forbidden to lay with angels, except for the ga-aelijan of the Haelan Templum.
Turning away from the ethereal vision, he drew in a breath. He should have attended the Haelan for relief before coming here. His physical reaction to this archangel confirmed the danger of waiting too long to eradicate his bloodlust. He'd already pushed his limits, and if he didn't get to the temple, he'd fall ill, or worse, lose the reins over his actions.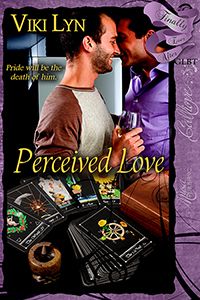 And Now for your tasty morsel--The Novella..."Perceived Love" Tell us a little about it.
Blurb:
Pride will be the death of him.
When psychic Nate Coleman dreams of a murder, he knows it's a premonition. He can't forget the image of his ex-lover with a bullet hole through his chest. Nate has no choice but to confront William and face the skeptical scientist's ridicule.
Dr. William Ryner doesn't believe in what he can't prove. When Nate comes back into his life, it's not to rekindle their love, but to bring up more of that mumbo jumbo that split them apart.
Despite William's refusal to listen, Nate can't ignore the premonition. And, William can't ignore Nate. Before the gunman strikes, William must either trust in Nate's ability or rely only on the facts, but if he does the latter, pride could be the death of him.
Link: http://musapublishing.com/index.php?main_page=product_info&cPath=44&products_id=494
A sudden burst of noise tore the air. Nate pivoted around in time to spy a figure wearing an orange baseball cap dashing through the crowd, a silver object glinting from the shadowy hand. Metallic odor wafted under Nate's nose. Blood.
The scene transformed, images melting as though he'd stepped into a surreal painting. Eerie silence fell over the park. The crowd had vanished, and he stood alone in the middle of the bandstand. Nate was dreaming, but the realization didn't calm the hammering in his chest. Something evil had taken place, and he could taste the bitter aftermath.
Then he saw the reason for his dread. A lifeless form lay in a crumpled heap on the stage. Nate's legs felt as if they were tied down by weights as he trudged toward the body. Blood leaked from the man's chest, his head bent down, hiding his face. Fear swept through Nate, and when he lifted the chin and peered into the lifeless face, his heart plummeted. William.
Nate fell to his knees, shaking William's shoulders, crying out his name over and over. But William didn't stir. He lay still as the air smothered them. What good was Nate's psychic ability if he couldn't save the man who meant everything to him?
Nate woke with a start, his heart pounding. He reached for the water glass on the nightstand and almost dropped it. Rarely did he dream of death, but when he did, he heeded the warning. That it was William he'd seen in his nightmare made it more complicated.
http://www.twitter.com/VikiLynRomance
Thank you for coming by and sharing your Holiday releases. I can't wait to get my hands on these!
Make sure you check out Viki Lyn's Pages and books. You won't want to miss out.
And Give Viki some love people. Tell her what you think. :)